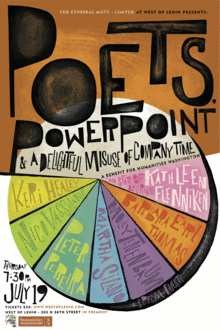 Poets, Powerpoint & A Delightful Misuse of Company Time
What happens when a poetic imagination is given access to PowerPoint and far too much free time? The Ethereal Mutt Ltd. presents an evening of poetic explorations in slideshow form with Poets, Powerpoint & A Delightful Misuse of Company Time on July 19, 2012 at 7:30pm at West of Lenin in Fremont. Tickets to this one-night-only event are $30 and proceeds benefit Humanities Washington.
The evening was conceived by West of Lenin proprietor and Humanities Washington trustee A.J. Epstein and Washington State Poet Laureate Kathleen Flenniken. Featured presenters include Flenniken, Keri Healey (local playwright recently shortlisted for The Stranger's Genius Awards) Peter Pereira (family physician and Copper Canyon Press poet), Martha Silano (most recent collection is The Little Office of the Immaculate Conception), Molly Tenenbaum (author of The Cupboard Artist), Barbara Earl Thomas (writer and painter whose work was appeared at Seattle Art Museum) and other special guests. Each writer will present original work accompanied by a digital slideshow, melding visuals and words into Powerpoint poetics.
21+ only
Tickets are $30 and available here: http://www.brownpapertickets.com/event/253761