by Erin Malone | Editor
Appreciations, a new series at Poetry Northwest, aims to introduce you to new, or new-to-you, collections.  It's our digital version of handing a book to a friend: Read this. We think you'll like it. In the interest of exploring diverse tastes, and because we're curious about what inspires authors whose work we admire, we'll tag the featured writer for the next Appreciation, and they in turn will tag another, resulting in what we hope will become a long chain of poetry goodness.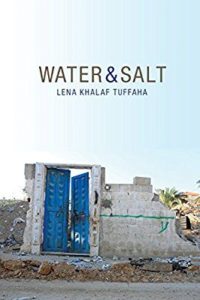 Our first feature just debuted from Red Hen Press in late April: Water & Salt, by Redmond, Washington poet Lena Khalaf Tuffaha. (Tuffaha is having a good year; her chapbook, Arab in Newsland, won the 2016 Two Sylvias Prize and was released this March.) I discovered Water & Salt at AWP in Washington, D.C., when Billie Swift of Seattle's Open Books appeared out of the book fair's frenetic cloud, holding Tuffaha by the arm, advance copy in hand.
Lena Khalaf Tuffaha is an Arab American with roots in Palestine, Jordan, and Syria. The poems in Water & Salt explore the speaker's cultural identity, her emotional life in two worlds: one where she's stuck in the Western tedium of carpool traffic, for example, and one that's home to "the mother / whose son's limbs have been / collected for burial."
That line with that word, "collected"—I had to read that more than once to fully comprehend it, as heartbreakingly factual it is. The poem it's from, "Newsworthy," scrolls almost unpunctuated down the page, producing a different effect depending on the quality of attention the reader gives it. It can be a breathless experience, terrible violence unfolding before the eyes; or it can be more like an accumulation of images and sounds in the background, a television left on in another room. The poet is asking us to pay attention. So much of American culture provides us the luxury of non-response. But the speaker is addressing us:
if you find yourself measuring
the miniscule space her son's
corpse takes up on the stretcher
if your eyes find others in the crowd
focus
focus again on the sound that floats up
the words you don't speak
you do not know these people
I remember sitting at my family's dinner table in the early 1980's, in Nebraska, listening to the adults talk about crisis in the Middle East. And "somehow all these decades later / all we can do is watch / with different lenses and on flatter screens ("Again and Again")."  But we can also learn what others "call home," as in the poem "Circling the Dome of the Sky"; we can learn empathy.
It may be said that this collection is both timely and timeless. But Tuffaha's work doesn't focus solely on tragedy; it honors tradition, language, and song, with humor woven in. For all these things, Water & Salt is a book to read and to keep.