I'm prompted to summarize you
and before I get anywhere the concept
blunders its way through my teeth,
a lie, contends I'm implying away
our fleshy nuance, that I would
spouse us if I were serious
or partner you if I mean to evade
marriage, or monogamy.
I lover you in heterosexual company
and it erases the scars we've become
for each other. How do I comprise you
and you and you and who
we each darling next without saying us
and all our genderqueer heartthrobs every time?
I have no perfect answer, but at intake
I tell the nurse Emil— my lover
and partner and unmarried husband and never
my only of anything, who will, when I call
tonight from the opposite coast, cup my elbows
through the phone to soften a small edge
of me as I lean into preparatory grief, who, when
I arrive, forever, from the last flight
of the California adventure, will roll
me a blunt, uncork a bottle of prosecco, ferries
me directly to the Atlantic, which I darling'd
first and stay adoring, though it is not
the only or final ocean
I love, or will.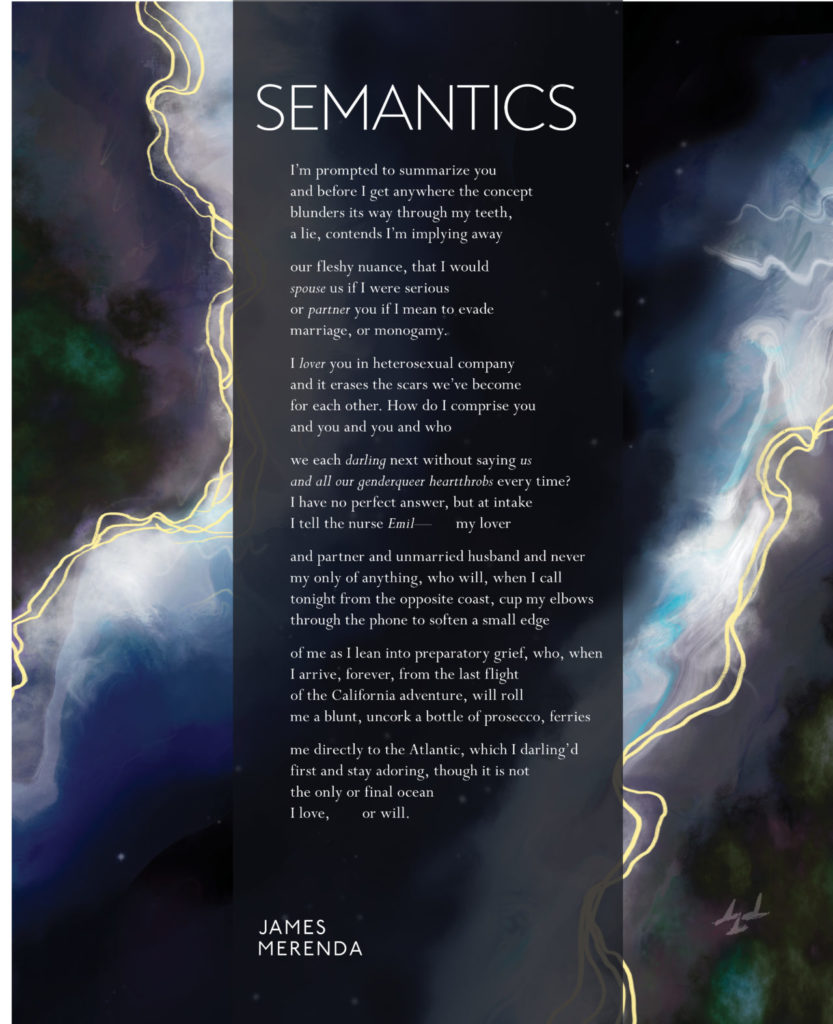 —
James Merenda (they/them) is a queer, nonbinary poet residing in Boston, MA. Their first poetry collection was a finalist for YesYes Books' 2019 Pamet River Prize.
"Semantics" appears in the Winter & Spring 2021 issue of Poetry Northwest. It is the second in a series, I Call It Joy.