by Cassandra Cleghorn | Contributing Writer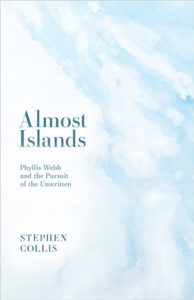 Almost Islands: Phyllis Webb and the Pursuit of the Unwritten
Stephen Collis
Talonbooks, 2018
My first read of Stephen Collis's book was like a surprise party. With the turn of every page, I found another friend: Montaigne, Geoff Dyer, W. G. Sebald, Thoreau, C. D. Wright, Susan Howe, et alia. Indeed, I love Almost Islands, in large part, because it reminds me of myself. I would be embarrassed by this admission if it weren't for the fact that intense identification is the very mode of reading that Collis celebrates in this wide-ranging memoir. We might call this mode of reading Emersonian. "In every work of genius," Emerson writes in 1841, "we recognize our own rejected thoughts; they come back to us with a certain alienated majesty."
Collis agrees: "Reading is always a staring into one kind of mirror or another. And the deeper we stare into our own reflection, the more opaque the wilderness within—stares back—from the beyondery we project at the boundary we find or build." Collis's unconventional book is ostensibly a record of his friendship with the nonagenarian Canadian poet, Phyllis Webb, whose work has shaped his writing from its beginnings. But Collis's book is also a mirror on his reader—as poet and writer; as Westerner and naturalist; as student of North American settler colonialism and of enduring indigenous cultures; as activist and fellow inhabitant of this endangered planet; and more. With great skill and integrity of purpose, Collis weaves these strands together to produce a book that is at once uncannily intimate and extraordinarily expansive.
Chief among the book's pleasures is its introduction of Webb herself, the legendary Canadian poet, CBC radio broadcaster and painter who remains largely unknown to most U.S. readers. Born in 1927, Webb published her first book of poems in 1950, and continued to publish influential work steadily, if infrequently, until the end of the century. Her 1980 book, Wilson's Bowl, won emphatic praise of fellow poets across Canada when it was passed over for a nomination for the Governor General's Award. Among other books by Webb, the Selected Poems was published by Talonbooks in 1971, and Peacock Blue: the Collected Poems, by the same publisher in 2014. "In each of [my] books," Collis writes, "there is at least one slant reference to Phyllis's work, one line playing on a line of hers, one poem written in response to one of hers—that other oeuvre as present to me as the nighttime ticks and creaks of my aging house."
But as important to Collis as what Webb did write is what she has not written. In the mid-1960s, Webb conceived of an epic about the 19th-century Russian anarchist, Peter Kropotkin, which she never completed, and which has remained a touchstone of her thinking and reading, even after "words abandoned" her twenty-five years ago. That was also when Webb moved to Salt Spring Island, one of the Gulf Islands off the coast of British Columbia. On Collis's visits to her remote home on the remote island—three or four times per year, two ferries from his home in Vancouver, and two ferries back—Collis and Webb exchange books, pore over notes and marginalia, consider paintings, and talk about finished and unfinished projects.
Meditating upon the aging poet's decision to stop writing allows Collis to think about his own compulsion to always-be-writing, about literary success and failure, and about the potent notion of un-writing. "What keeps drawing me back to Phyllis? Her strength to remain alone (which I lack), her resolute withdrawal, her ability to dwell in the glare of her fragments and failures. It's as a form of resistance that she continues. Islanded. Bulwarked. But open, curious." The unfolding conversations between Collis and Webb, and the younger poet's subtle digressions on every aspect of poetry and politics, constitute a potent antidote to the state of the "po biz" in North America, with its social media saturation and cults of celebrity. "I nervously attend her not writing," he writes, in tones that seem borrowed from an earlier era, "as though assuming a commission, or standing guard at a grave."
For all his bookishness, Collis is firmly steeped in place. The seascape and the unceded Salish lands of British Columbia—the coastline's present forms and its complex geopolitical histories—come alive in Collis's descriptions, such that every place exists in multiple dimensions and along multiple axes. And yet, despite this reach (a constant feature of Collis's many books of poetry and prose), Collis's signature move is centripetal. "I find in and around [Webb] most everything I need and want to write about—love, revolution, the end times of geophysical capitalism, this coastal geography, migration and Indigeneity—all of it. But I also find there the end of the search—for a place to safely rest my head, my bones … I think, as long as I live, she will remain the west I walk toward." Collis has produced a moving portrait of reading and writing for our precarious historical moment.
—
Cassandra Cleghorn's Four Weathercocks was published in 2016 by Marick Press. Her poems and reviews have appeared in journals including Paris Review, Yale Review, Poetry International, Colorado Review, Boston Review, Field and Tin House. She lives in Vermont, teaches at Williams College, regularly reviews poetry for Publishers Weekly, and serves as poetry editor of Tupelo Press.