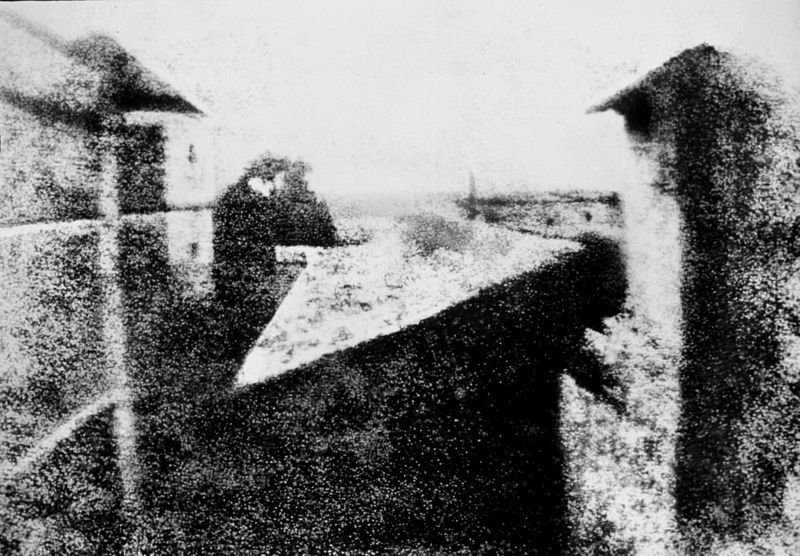 +++Inspired by Joseph Nicéphore Niépce's first image
Perihelion, closest to the sun. Heliography, the image.
Hasn't there been a moment you never wanted to leave?
An outward listlessness, but inwardly lit, light-sensitive?
Previous tests revealed how a feeling, made
transparent, could be transferred to stones.
Hold still, we said to the trees, the slanting rooftops.
Uncap the lens and we are in France.
Through the pinprick it all came to us,
how close we were, upside down,
several hours on the windowsill.
We were surfaces arranged to receive.
The pewter plate revealed buildings turning into salt,
sliding away from themselves,
what we could see but did not know,
the graininess of the shadows.
Later we passed through many hands,
centuries.
We had to leave.
Yet I capture you. Close to the sun.
I coated my longing in bitumen.
—
Sierra Nelson was awarded the Carolyn Kizer Prize from Poetry Northwest in 2014. Her previous books include the chapbook In Case of Loss (Toadlily Press), and lyrical choose-your-own-adventure I Take Back the Sponge Cake (Rose Metal Press). She teaches creative writing at the Richard Hugo House, Centrum, Seattle Children's Hospital through Writers in the Schools (WITS), and the University of Washington's Friday Harbor Laboratories and Summer Writers in Rome programs. Nelson is also a founding member of the performance collaborations The Typing Explosion and Vis-à-Vis Society, and president of Seattle's Cephalopod Appreciation Society.
"The First Photograph" first appeared in the Spring & Summer 2013 issue of Poetry Northwest, and appears also in The Lachrymose Report, published by Poetry NW Editions in 2018.
Photo: View from the Window at Le Gras by Joseph Nicéphore Niépce. (public domain)